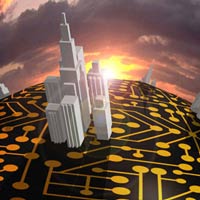 Site Structure Optimization > Sitemapping
Sitemapping
Viewing the project from a bird's eye perspective is a chance to see how the site is organized and how the user will view the site from a content and informational perspective. A sitemap shows a visual representation of the site's structure, organization, flow, and grouping of content and information. It communicates, defines, and structures. It is a representation of the entire project, from a broad point to many of the smallest details. It is a chance to view the site structure and organization as a whole.
We will design and present to you a site map based on our usability expertise and user expectations. If you are redesigning your site, we will assess what is working, what is not, and determine the best way to organize and structure redesign and how the existing organization relates to the redesign goals.
The sitemap will clearly show all pages within each section of the site; every page will get a box, and most major links will be represented. Developing a sitemap will allow to design a conceptual model, providing a mental picture of the site as a whole. Designers, programmers and content developers will use the sitemap to check off their progress during production; site visitors will use your sitemap as a point of reference; and search engines will use the sitemap to index your site.
Next stage: Page Wireframing and Design of User Interface
Back to Structure Optimization Overview
Contact us for a free, no obligation consultation