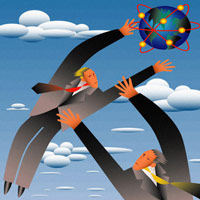 Site Structure Optimization
The world can be seen as only connections, nothing else… A piece of information is really only defined by what it's related to, and how it's related. There really is little else to meaning. The structure is everything.
- Tim Berners-Lee, Weaving the Web
In the Information Age the rules of the marketplace are shifting from push to pull. It takes almost nothing to produce and stock one more item, while consumers enjoy more buying power, variety, and information. It is getting harder to reach consumers and convince them to buy anything. The name of the game is to make it easy for customers to find what they need when they need it. Why information structure matters for your company and how you can benefit
Our site structure optimization process consists of the following interrelated stages:
Page Wireframing and Design of User Interface
The goal of structure optimization is to understand user information needs and behavior, and then tailor content and organization of information to provide effective user experience. Creating consistent and functional information design is about taking a look at the content and organization of the site and blueprinting from organizational and functional perspectives.
Structure optimization is about developing content and information strategy, where and how to put what information so that users can easily access it. By the end of structure optimization you will be presented with a sitemap, page wireframes, and interactive wireframes. The sitemap will demonstrate the overall structure organization; page wireframes will show what exactly goes on each page; and interactive wireframes will show how pages work with one another.
The pricing for structure optimization starts at $2000 and may vary depending on the size and complexity of your web site. The price includes a short presentation of the results. This is an opportunity for you to ask questions and learn more about the information structure optimization.
Contact us for a free, no obligation consultation
Continue to detailed description